Welcome to the Official Website for young Model & Actor Payton Rodgers. Here you'll find the latest news, updates & images on this bright & talented little boy. You can view some of his work in his Portfolio. If you have any question's feel free to Email the Webmaster.
Halloween is just around the corner! Soon children everywhere will be dressed up as some of their favorite characters, creatures, and all kinds of wonderful, amazing and maybe even scary costumes! They'll go up and down the streets, house to house, getting all kinds of delicious treats as they say "Trick or Treat". A very exciting night! Disney is all set with their new line of costumes, and Payton can be seen on their website for both the Spiderman and Peter Pan costumes!!! For his Spiderman shoot, Payton not only got to dress up like him, but he also got to act like him for some fantastic action shots! As Peter Pan he got to do a family photoshoot, and had lots of fun with his pretend Tinkerbell and Captain Hook family! Disney loves the family shots so much that they've even used them in their emails to their customers, how cool is that! Fantastic job Payton!!


Not only can Payton be seen on the website and in emails for Disney, he can also be seen in a promotional video for their costumes!!! Payton is dressed as Spiderman in the video, demonstrating some of the comic book hero's classic poses and...in one shot we get to see Payton as he takes off the mask. Its great getting to see Payton in the costume without the mask for the video, and just love how good he is at posing as one of the most popular superheroes. What's really neat is that not only is this video on their website too, but...it is currently being shown on a huge screen above the Disney Store in Times Square! Just think of how many people each and every day are seeing Payton's work as they go about shopping and sightseeing!




Posted by: lisa | comments 0
| | |
| --- | --- |
| 29 Aug 2011 | Disguise Costumes |
With the new school year upon us it means its not that much longer until Halloween! Fun costumes, candy, a few tricks, what could be better? One of the new lines from Disguise Costumes this year is for The Lion King, which Payton shot the Simba costumes for! With the stores starting to bring out the Halloween merchandise, his costume is now out and Payton is on the packaging! Make sure to check out the costume to see Payton next time your at your local department store Halloween section!
Posted by: lisa | comments 0
| | |
| --- | --- |
| 02 Jun 2011 | Happy Birthday Payton!!! |
Today is an absolutely exciting day for a very awesome kid! He gets to have an extremely cool day with family and friends, making sure to have loads of fun as he celebrates his special day. He'll enjoy a delicious cake, make sure to blow out some candles and make a wish as everybody sings to him. Today is Payton's 5th Birthday! Happy Birthday Payton!!! Hope you have an exciting fun filled day, doing some of your favorite activities while spending time with those you love. Being 4 years old was loads of fun and now that your 5 you've got so many more great and fun things to look forward to! To celebrate we have this amazing birthday banner below made by our wonderful friend Laura. Happy Birthday Payton!!!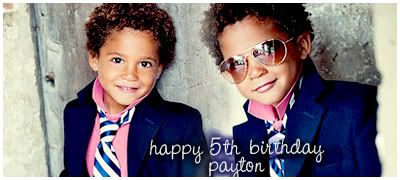 Posted by: lisa | comments 0