Welcome to the Official Website for young Model & Actor Payton Rodgers. Here you'll find the latest news, updates & images on this bright & talented little boy. You can view some of his work in his Portfolio. If you have any question's feel free to Email the Webmaster.
| | |
| --- | --- |
| 24 Dec 2014 | Merry Christmas! |
After lots of preparations and counting down, Christmas is finally here! Payton cannot wait for Santa to make his big visit tonight after he's fallen asleep, and celebrate the day tomorrow with his family. He would like to wish all of you celebrating too a very Merry Christmas, and may everyone's holiday season be one filled with lots of love and happiness.
Posted by: lisa | comments 0
It's time to get in the Halloween spirit for today with KUSI! Earlier this month, Payton, Ava, and Caden appeared in a segment of KUSI News/Good Morning San Diego while they looked at making healthy treats for parties and trick or treating. Dressed up in costume, Payton got several close ups as he worked with Ava making their own healthy treats with the ingredients provided on the table. He had so much fun and loved watching Caden get interviewed! Payton was so involved in what he was doing it was easy to forget that the cameras were there and everyone in the San Diego area was watching them live. What a great experience, and make sure to watch the clip in the media section, Happy Halloween!


Posted by: lisa | comments 0
It's time to take a trip back to 2011 with Stride Rite! Payton did a fantastic shoot for the company which began surfacing close to Easter of that year with images shared on social media, and hanging in stores overseas. The kids were dressed up in fancy clothes while playing croquet and Payton enjoyed making so many new friends at the shoot. A new image has surfaced which shows Payton getting to take part in playing croquet while the photographer took their photos. It can now be found in the gallery, and thank-you to the Stride Rite team for such a fun time that day!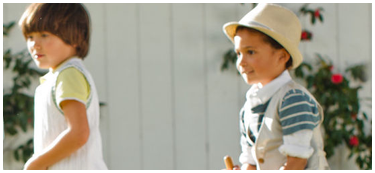 Posted by: lisa | comments 0